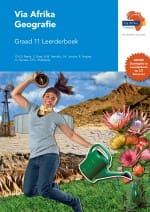 Long Description
1. Elke boek is verdeel in kwartale of afdelings en begin met 'n pragtige prentjie om denke uit te lok en te geniet.
2. Elke onderwerp begin met 'n oorsig om 'n idee te gee waaroor die leerder sal leer. Die grafiese organiseerder kan gebruik word wanneer hulle studeer. Dit toon hoe die inligting georganiseer word per onderwerp.
3. Die eerste keer wanneer 'n belangrike terme in die teks verskyn word dit in rooi aangedui. 'n Lys van hierdie terme word ook in rooi aan die begin van elke eenheid of hoofstuk gelys.
4. Nuwe woorde word in blou aangedui en word verduidelik in die kantlyn.
5. Elke eenheid se inhoud word opgedeel in afdelings.
6. Aktiwiteite help leerders om te verstaan wat hulle geleer het.
7. Die Formele Assesseringstaak (FAT) blokkie bevat take wat leerders voorberei vir dié wat in die klas voltooi moet word.
8. 'n Opsomming aan die einde van elke onderwerp help leerders studeer. (Moenie vergeet om ons Studiegids eBoek te gebruik wanneer hulle studeer nie! Alles wat hulle moet weet word hierin saamgevat.)
9. Vrae aan die einde van elke onderwerp help leerders met hersiening.
10. 'n Eksamenvoorbeeld aan die einde van die boek sal leerders ook help oefen en leer oor alles wat hulle nodig het om te weet. 'n Voorbeeldeksamen wat agter in die boek ingesluit word help leerders met voorbereiding.
11. 'n Woordelys en inhoudsopgawe verskaf definisies van die sleutel terme.