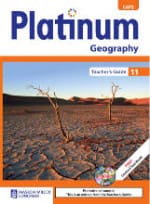 Long Description
Platinum Geography has been especially developed to comply with the Curriculum and Assessment Policy Statements (CAPS). FREE Control Test Books and Question Bank CD with the Teacher's Guide.
The Platinum Geography Grade 11 Teacher's Guide:
– Written for the new curriculum by expert authors.
– The Term and Topic overviews will help you with planning and preparation.
– Follow the weekly lesson guidelines to take you through each part of the topic being covered.
– The resources section refers you to the required Learner's Book activities and any other resources – such as maps, graphs and data – you may need to complete the lesson.
Superior quality = exam success!
Authors: S. Cohen, B. Fleming, L. Kroll, P. Ranby, J. Saunders