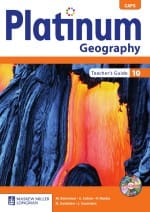 Long Description
Superior illustrations and activities to improve results and motivate learners
Superior teacher support to save time and make teaching easy, including photocopiable worksheets
Superior quality = exam success!
The Platinum Geography Grade 10 Teacher's Guide:
– Written for the new curriculum by expert authors.
– The Term and Topic overviews will help you with planning and preparation.
– Follow the weekly lesson guidelines to take you through each part of the topic being covered.
– The resources section refers you to the required Learner's Book activities and any other resources – such as maps, graphs and data – you may need to complete the lesson.