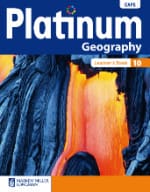 Long Description
Superior CAPS coverage – written for the new curriculum by expert authors
Superior illustrations and activities to improve results and motivate learners
Superior teacher support to save time and make teaching easy, including photocopiable worksheets
Superior quality = exam success!
The Platinum Geography Grade 10 Learner's Book:
– Work for the year is planned across terms and weeks matching the required CAPS sequence.
– Themes are carefully planned to cover the key geographical concepts.
– Each unit within a topic has helpful keywords, fieldwork activities as well as consolidating and summary activities.
– Target worksheets have been provided to assist learners with different abilities.
– Formal assessement pages cover the required formal assessment for the year.